Black Friday 2020 : êtes-vous prêt(e) !
Temps de lecture environ 8 min
Evènement incontournable du e-commerce, le Black Friday devrait, cette année encore, vous permettre de réaliser une belle partie de votre chiffre d'affaires annuel. Il aura lieu le vendredi 27 novembre prochain et sera suivi, comme toujours, par le Cyber Monday le lundi 30 novembre.
Pour vous aider à préparer cet intense week-end, nous avons listé pour vous les quelques missions indispensables à mettre en place / optimiser pour cet événement e-commerce.
Pour commencer, quelques chiffres…..
Originaire des états-unis, le Black Friday (Vendredi noir) s'est invité en France depuis déjà une dizaine d'années et séduit de plus en plus d'internautes impatients de réaliser de bonnes affaires.
En 2019, cet évènement a battu un nouveau record puisque 68% des français se sont laissés tenter par des achats pour un chiffre d'affaires global de 1.7 milliards d'euros (source: capital.fr).
Comme chaque année, les secteurs les plus plébiscités sont ceux de la mode, de l'électronique et de l'électroménager.
Les ventes sur mobile gagnent progressivement du terrain et représentent désormais 40% des achats globaux.
Typologie des acheteurs
Concernant la typologie des acheteurs, hommes et femmes sont concernés par les achats durant le week-end du Black Friday.
57% des acheteurs sont des femmes contre 43% d'acheteurs hommes avec une moyenne de 230€ par personne (source : ecommercemag.fr).
Même si tous les profils d'âge prévoient de profiter de cet évènement, chaque année 8 acheteurs sur 10 ont moins de 35 ans.
Côté budget, on constate des variations avec une moyenne de 175€ pour les moins de 25 ans, 195€ pour les 65 ans et plus contre 270€ pour la tranche d'âge 25 – 40 ans (source : journaldunet.com).
Avez-vous préparé votre site e-commerce pour le Black Friday ?
Afin de rendre votre site marchand pleinement opérationnel pour le jour J et maximiser votre taux de conversion, un certain nombre d'optimisations sont possibles :
Concevez un onglet ou une bannière dédié au Black Friday
Afin d'aider vos visiteurs à naviguer sur votre site et leur permettre de gagner du temps, n'hésitez pas à réaliser un onglet spécial Black Friday regroupant l'ensemble des produits que vous souhaitez mettre en avant.
Afin de gagner du temps, vous pouvez simplement adapter un onglet/page "Promotions" ou "Bonnes affaires" déjà présent sur votre site.
Pour maximiser vos chances de conversion, concevez également une bannière dédiée au Black Friday afin de valoriser vos produits stars et mettre en avant vos promotions.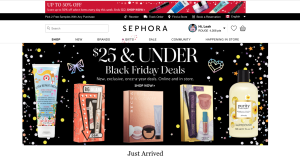 Bannière Black Friday – Sephora
ShopiMind vous permet de concevoir des bannières ultra personnalisées dans lesquelles vous pouvez intégrer des recommandations de produits adaptées au profil de vos visiteurs.
Evidemment, prévoyez également de personnaliser toutes les pages de votre site e-commerce aux couleurs de l'évènement lors de la diffusion de votre communication.
Augmentez la quantité de produits disponibles
Pour les produits disposant d'un stock important, pensez à augmenter la quantité disponible dans votre CMS.
Ce conseil peut vous paraître étonnant mais sachez qu'il s'agit d'un problème assez courant qui peut vous faire rater des ventes.
Allégez votre service client en installant un module de chat
D'après une récente étude réalisée par le site GlobalTrend, 90% des internautes sont sensibles à la réactivité d'un service client. Et 63% se disent prêts à retourner sur un site qui utilise ce canal de communication.
Afin d'aider intelligemment votre service client, vous pouvez notamment installer un module de chat sur votre site e-commerce.
De nombreuses solutions sont disponibles telles Live Chat Inc, Olark ou Leap.
Optimisez les moyens de paiement et la livraison
Parmi les nombreuses optimisations possibles, le paiement reste à privilégier.
Nos conseils pour simplifier les paiements et booster vos ventes :
Assurez-vous de ne pas entraver le processus d'achat par des étapes trop longues ou bloquantes comme l'obligation de créer un compte client complet pour pouvoir commander.
Proposer des pages de paiement 100% responsives et enclencher automatiquement le clavier numérique.
Multipliez les options de paiement en proposant par exemple Paypal, Apple Pay ou Amazon Pay.
Assurer des paiements rapides et sécurisés en intégrant notamment le système 3D secure.
En ce qui concerne la livraison, oubliez le montant minimum d'achat et offrez-la à vos visiteurs !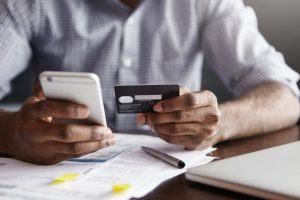 En effet, selon une étude Adrexo Colis, plus de 50% des consommateurs abandonnent un panier quand les frais de livraison sont trop élevés pour eux.
Si le produit vendu nécessite une expédition coûteuse pour votre entreprise, essayez de faire un geste sur le prix de la livraison
Testez-nous & générez gratuitement 1500€ de chiffre d'affaires
Anticiper votre communication
Durant le Black Friday, il est primordial de garder en tête que les internautes sont à la recherche de deux choses : des nouveautés et des tarifs attractifs.
Afin d'être compétitif sur ces deux tableaux, une recherche sur les tendances de votre secteur ainsi que sur les prix pratiqués est indispensable.
Ce travail de recherche vous permettra de préparer efficacement votre communication et de renforcer votre positionnement de marque.
De nombreux médias spécialisés e-commerce sont présents sur la toile, abonnez-vous à leurs newsletters afin de vous tenir informés des dernières actualités.
Préparez une communication attractive et cohérente
Définissez une ligne directrice pour votre communication en veillant à garder une cohérence avec votre identité de marque ainsi que la cible que vous souhaitez toucher.
Quelques conseils pour la mise en place de votre communication :
Veillez à valoriser vos nouveautés et à proposer des offres attractives
Lors de la rédaction de vos messages et création de vos offres, jouez sur le sentiment d'urgence et la technique FOMO (Fear of missing out).
Misez sur des textes courts et percutants
Choisissez avec soin les photos et/ou vidéos utilisées
Utilisez des boutons Call to action clairs et bien visibles
Assurez-vous une présence complète sur les moteurs de recherche ainsi que sur les réseaux sociaux
Pensez à une communication adaptée au Cyber Monday
Afin de maximiser vos chances de succès, anticipez votre communication et diffusez la suffisamment à l'avance pour que vos clients vous gardent en mémoire.
Quels canaux & actions e-marketing additionnels sont possibles ?
Au delà des réseaux sociaux, d'un solide travail de référencement et de nombreuses optimisations pour rendre votre site marchand attractif et ergonomique, plusieurs actions e-marketing sont réalisables pour vous permettre d'augmenter votre taux de conversion et donc votre chiffre d'affaires.
Des optimisations réalisables notamment grâce aux fonctionnalités ShopiMind 😉
Newsletters
Newsletter Black Friday – Pimkie.fr
Vous le savez, la newsletter est un incontournable outil vous permettant de maintenir une relation de proximité unique avec vos clients et ainsi mieux les fidéliser.
Pour un évènement aussi important que le Black Friday, l'envoi d'une newsletter dédiée est évidemment indispensable pour teaser vos clients sur les promotions à venir et surtout pour maximiser vos chances de rester dans leur mémoire jusqu'au jour J.
Nos conseils pour un envoi newsletter réussi :
Prévoyez une newsletter dédiée au Black Friday et une newsletter dédiée au Cyber Monday.
Utilisez le code couleur du Black Friday : à savoir le noir.
Bien sûr, vous n'êtes pas obligé de proposer une newsletter entièrement noire, vous pouvez très bien n'utiliser que quelques touches de noir. Associez votre charte graphique à celle utilisée pour le Black Friday va permettre à vos abonnés d'associer plus aisément vos promotions à l'évènement Black Friday.
Soignez l'objet de votre newsletter : il doit être court et percutant.
Pour une efficacité maximale, personnalisez-le notamment grâce à la variable "firstname".
Valorisez les promotions que vous mettez en place : faites en sorte de les rendre suffisamment lisibles et compréhensibles. Soyez agressif-ve sur les promotions réalisées, la concurrence sera féroce durant cet évènement, vous devez vous aussi pouvoir proposer de belles promotions pour être compétitif.
Optimisez votre bouton Call to action : comme pour vos promotions, il doit être bien visible et attractif.
Envoyez une première newsletter d'annonce suffisamment à l'avance pour que vos clients ne vous oublient pas. Une première newsletter peut par exemple être envoyée à J-7. La seconde newsletter sera quand à elle, envoyée à J-1 ou pour le Jour J.
Campagne SMS pour vos meilleurs clients
Vous le savez probablement déjà, le SMS est un redoutable outil de conversion client.
Avec un taux d'ouverture record à 98% et un taux de mémorisation proche des 60%, cet outil est puissant et permet de compléter intelligemment votre stratégie marketing.
Nos conseils pour une campagne SMS efficace :
Privilégiez l'envoi d'un SMS à vos clients ayant commandé récemment : le SMS n'est pas un outil efficace pour réactiver des clients inactifs depuis trop longtemps.
Personnalisez vos SMS : comme pour la newsletter, vous pouvez insérer la variable "firstname" et ainsi vous montrer plus proche de vos clients.
Insérez un lien vers votre site : afin de permettre à vos clients d'accéder plus rapidement à vos promotions.
Envoyez votre campagne SMS de préférence le Jour J afin de créer un sentiment d'urgence chez vos clients.
Dès réception du SMS, ils pourront ainsi se rendre immédiatement sur votre site marchand et commander sans avoir besoin d'attendre (hausse des achats "coup de coeur").
Pop-up d'acquisition
Pop-up acquisition abonnés newsletter – L'Oréal Paris
Pour une journée aussi exceptionnelle que le Black Friday, nul doute que vous avez développé une solide stratégie ayant pour objectif d'augmenter le trafic de votre site marchand.
Il serait alors dommage de manquer une occasion d'enrichir votre base de données abonnés newsletters !
Nos conseils pour une pop-up efficace :
Personnalisez votre pop-up aux couleurs du Black Friday en veillant à rester en accord avec votre charte graphique.
Attendez un minimum de 2 minutes avant de déclencher votre pop-up afin de pas être trop intrusif-ve avec vos visiteurs.
Offrez une petite réduction supplémentaire pour inciter vos visiteurs à s'abonner.
Scénario automatisé spécial Black Friday
Scénario de relance paniers abandonnés multicanal (clients réguliers uniquement)
Le marketing automatisé peut vous permettre d'atteindre une multitude d'objectifs et notamment d'augmenter significativement votre taux de conversion.
L'automatisation e-commerce est un ensemble d'actions automatisées et récurrentes envoyées dans le cadre d'une stratégie marketing globale.
Exemple : envoyer un email, un SMS, un message Facebook Messenger, etc.
Chez ShopiMind, cet ensemble d'actions est ce que l'on appelle un scénario automatisé.
Grâce à cette fonctionnalité, vous avez la possibilité de créer un nombre infini de scénarios automatisés en fonction de vos objectifs marketing et des actions réalisées par vos prospects & clients sur votre site.
Vous avez également la possibilité de concevoir des scénarios automatisés dédiés à des évènements annuels récurrents tels que le Black Friday ou Noël.
Nos conseils pour un scénario automatisé efficace :
Utilisez plusieurs canaux de diffusion afin de multiplier les contacts avec votre cible (Email, SMS, Facebook Messenger, Push Notification)
Adaptez vos messages de relance au Black Friday (message relance de panier abandonné par exemple)
Utiliser le cross-selling pour afficher le bon produit, à la bonne personne
Exemple de scénario automatisé Black Friday : 
Relance paniers abandonnés
Relance suite à un intérêt pour un produit ou une catégorie de produits
Relance clients ayant quitté le site sans effectuer de commande
Relance de prospects (retargeting)
….. les scénarios sont infinis !
Conclusion :
Vous savez désormais à quoi vous attendre pour la préparation de ce nouveau Black Friday, même si nous sommes certains que vous avez déjà anticipé une grande partie des éléments que nous venons d'évoquer.
Rendez-vous très prochainement pour un nouvel article consacré à Noël 🎅🏻.
Nous vous souhaitons à tous de belles ventes pour ce Black Friday 2020.
À vous de jouer !
S'inscrire à la newsletter Shopimind
Oui, j'accepte de recevoir cette newsletter ! Je comprends que je peux me désabonner facilement et à tout moment.
30 octobre 2020 Marion Drapala
Temps de lecture environ 7 min
19 octobre 2020 Marion Drapala
Temps de lecture environ 7 min
# Automatisation
# Marketing multicanal
# Stratégie Marketing & E-commerce
18 octobre 2020 Marion Drapala
Temps de lecture environ 9 min
# Stratégie Marketing & E-commerce