How can you increase your average basket size during the festive season?
Temps de lecture environ 7 min
As you know, the end of the year is a key commercial period punctuated by three of the main commercial events of the year: Black Friday, Christmas and the Winter Sales.
During this period, like many e-merchants, you should be achieving a large part of your annual turnover.
Well, why not take advantage of this opportunity to increase your turnover? A very effective way to do this is to increase your average basket size.
We have listed 5 tips for you to help achieve this!
Set up an Up-selling & Cross-selling strategy
What exactly is it about?
"Up-selling or upmarketing is the practice of offering a product or service that is slightly better and more expensive than the one the prospect is interested in. Up-selling is normally used where the new product offered allows for a higher margin" (source: definitions-marketing.com).
Cross-selling is based on the same principle as up-selling, but makes it possible to display products related to the visitor's purchasing and browsing profile. It is a complementary sales technique.
How do you deploy an Up-selling and Cross-selling strategy?
In both cases, you will need to set up additional product displays to encourage your prospects & customers to buy.
Up-selling will be simpler to achieve than cross-selling since you only need to create lists of products at higher price points than those looked at by your visitors.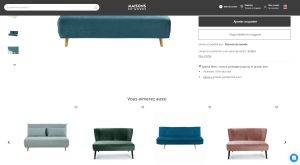 Example of Maison du Monde cross-selling
When it comes to cross-selling, you will need accurate information about your visitors so that you can recommend the right product to them at the right time.
These targeted recommendations are based on an in-depth analysis of your visitors: profile (age, gender, location, etc.), purchasing habits (frequency of purchase, average basket spent, etc.) as well as information relating to their browsing history (categories or products viewed, for example).
This kind of analysis is not possible from your CMS.
To have the most accurate data possible and to be able to automate a strategy like this, you will need to use a third party solution, such as ShopiMind for example🙂!
For an effective increase of your average basket spend, you can also simply offer your customers & prospects products that are complementary to the product they are looking at.
For example, you could suggest accessories to complete an outfit or complement a given style of decoration by recommending several items with a similar theme.
Set up a loyalty program.
One of the key levers for increasing the average basket is of course the creation of an exclusive loyalty program.
As you know, loyalty programs are already proven to be effective. Have you implemented one for your shop?
This program will not only help you increase your turnover, but also build long-term customer loyalty.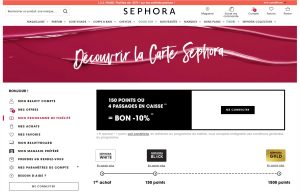 Sephora loyalty program
A points system that can be converted into a discount, a premium membership or even a membership of a VIP club, are just some of the many ideas that can be included.
Why does it work?
Offer your customers the opportunity to collect loyalty points in order to get a nice discount on their next order: an unbeatable argument to encourage your customers and prospects to buy more.
Of course, the amount of discount on the next order must be sufficiently attractive.
Offer regular promotions
Obviously for this end of the year period, we know that you will already have a number of promotions planned for a range of products, and in particular your star products and new ranges.
To sustainably increase your average basket size, you can regularly offer promotions outside of the year's key trade events.
However, make sure to obey a few rules to make sure you keep the right side of the law:
Your promotions must have a start date as well as an end date.
Advertisements must specify the product(s) concerned and the amount of the discount.
The old and the new price must be displayed next to each other. The old price must be crossed out in a clearly visible way.
Resale at a loss for products on promotion is prohibited.
Gémo Summer Sale Campaign
(source : cgv-pro.fr)
Promotions will help you to increase your average shopping basket and at the same time help your visitors to have an enjoyable shopping experience at reduced prices, and so succumb to impulse purchases.
Offer free delivery
In order to encourage your visitors to place orders, offer them free delivery for spend over a certain amount.
Customers & prospects will therefore be more easily tempted to make additional purchases to reach the free shipping threshold.
In addition to reduced delivery costs, you can also choose to offer a free gift for orders over a certain minimum value.
For this strategy to work, make sure you offer a gift that is tempting enough.
Offer payment in instalments
After delivery, you can also work on the payment aspect.
This is an effective way to boost your average shopping basket while allowing your customers to pay in instalments.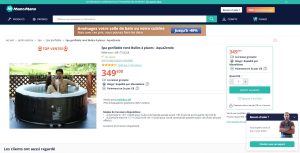 ManoMano offers free 4X payment
This is a fairly common practice in e-commerce, democratized by the giants of the sector such as Amazon or CDiscount.
Payment solutions allowing payment in instalments, include PayGreen, Oney or  Alma.
Prestashop, Magento or Shopify modules are available with limited functionality.
Conclusion
If you haven't already done so, you can also work on an e-commerce merchandising strategy by placing your star products at the top of your product categories as well as on your homepage.
As you have seen, there are many solutions for increasing your average shopping basket. All you have to do is determine which strategies are best suited to your business and also to your target group.
All the ShopiMind team wish you good luck with your sales and most of all a nice increase in turnover for Black Friday.
It's up to you!
S'inscrire à la newsletter Shopimind
Oui, j'accepte de recevoir cette newsletter ! Je comprends que je peux me désabonner facilement et à tout moment.
5 avril 2021 Marion Drapala
Temps de lecture environ 9 min
5 avril 2021 Marion Drapala
Temps de lecture environ 7 min
5 avril 2021 Marion Drapala
Temps de lecture environ 7 min