How do you design a high-performance product page?
Reading time approx. 9 min
With more than 300,000 active merchant sites in France alone, the e-commerce sector is an ultra-competitive field that requires a solid e-marketing strategy to succeed.
In addition to in-depth work on your customer acquisition techniques, your merchant site needs to be neat and efficient in order to enable you to increase your conversion rate and thus your turnover.
And if there is one aspect of your site that requires special attention, it is your product pages!
Optimization to boost the efficiency of your product pages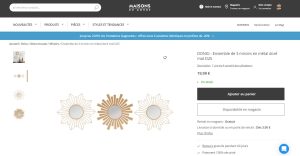 In addition to specific work to be done to make your "Add to Cart" buttons attractive, you will see that there are a number of possible optimizations to make your product pages fully functional.
Clear and comprehensive information
To encourage your visitors to take action, be as precise as possible in the titles and descriptions of your products.
These will reassure your visitors and help them determine whether the products displayed correspond to their expectations.
New products and promotions are among the most frequent searches by Internet users, so don't forget to highlight them.
"Add to wish list" button
Unfortunately, this button is not always available on e-commerce sites.
Too bad!
However, it allows the visitor to keep track of the products consulted and to be able to come back to them later.
This "wish list" can be used by your customers to create gift lists for Christmas or a birthday.
Wish lists are meant to be shared with those around you, so it's a great way for you to work on your visibility , but also on your brand image!
Attractive photos
Photos will be the first element that will catch the eye of your visitors and bring them to your product page.
How do you enhance your products or services with photos?
Use HD: poor quality and pixelated photos will not help your visitors to visualize your product clearly. All photos of the product must be in sharp focus.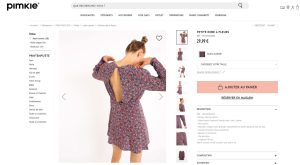 To help your customers & prospects visualize your products, use photos with different viewing angles.
Include photos of the product on its own as well as photos in context that will allow visitors to identify with the model or to imagine a decorative element in their own interior design.
Depending on the type of product sold, a zoom function may also be appreciated by your visitors, who will be able to see the materials used more clearly.
Finally, in the case of a technical product or service, consider including a video in your product descriptions.
There is nothing like a little demonstration to help your visitors understand how to use a product and so make a quicker decision.
Reassurance information
What is reassurance information?
As the name suggests, this is information designed to reassure your visitors and make it easier for them to place orders.
This includes information relating to payment and delivery, but also returns and after-sales service.
Make them clearly visible, preferably under the "add to cart" button. You can, for example, display them as an icon or button to make them clearly identifiable.
The extras for a high-performance product page
A "classic" product page is not enough to set you apart from your competitors.
To do that, you have to set up a great strategy that combines conquest and loyalty.
Complementary products
Including one or more complementary product categories will enable you to considerably increase your up-selling and cross-selling performance as well as your average basket size.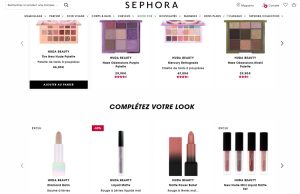 There are several possible categorizations:
A section highlighting the additional products available that can be associated with the displayed product.
These may be products that can be used to accessorize an outfit (shoes, jewelry, hats associated with a dress product, for example) or products from the same collection with common characteristics (pattern, materials, shape, etc.).
The advantage of this category is that it is applicable to many sectors of activity.
A cross-selling category to present products similar to the visitor's tastes and profile.
A "Bestsellers" or "Top sellers" section.
As its name suggests, this category involves highlighting the products you sell the most on your merchant site.
To maximize your chances of success, configure your category using advanced segmentation.
With ShopiMind, you can include all these types of products thanks to our "smart product list" widget.
Loyalty program
If you have a well-established loyalty program, don't hold back from mentioning it on your product sheets.
The latter will be a boost to your visitors' decision-making!
As far as possible, try to define a specific type of visual used to represent this loyalty program (icon, badge, visual, etc.), so that it will be easily identifiable.
Customer reviews
As we mentioned in a previous article, customer reviews are very important since "85% of Internet users consult customer reviews before buying" (source: e commercemag.fr).
The role of the reviews will be to reassure your visitors and to get accurate feedback on the buying experience of your customers.
There are a number of modules currently available on the French and international market: Avis vérifiés, Trusted shops or Get my opinion are paid solutions, with Truspilot, Google or Société des avis garantis available free of charge but which only include basic functionalities.
Simplified payment button
This button is used to increase what are known as "impulse" sales.
In concrete terms, it allows your visitors to place orders quickly without having to create a full customer account.
It should be noted that it will only be effective if the reassurance information referred to above is well presented.
Innovations dedicated to improving the user experience
Product customization configurator
Depending on your sector of activity and particularly if you design the products/services sold yourself, why not offer your customers and prospects the opportunity to personalize the products available.
There are a number of tools called "customization configurators" (KonfigApp for example) which offer the possibility of personalizing the selected product in real time by color, appearance and material used.
These tools make it easier to imagine and visualize the final product more clearly.
A great way to increase your customer conversion!
Augmented Reality, a digital revolution in progress
The latest UX trend in the e-commerce sector, the augmented reality market is estimated at more than 40 billion dollars in 2021 according to a study carried out by Goldman Sachs.
Augmented reality takes different forms and can help you stand out from your competitors.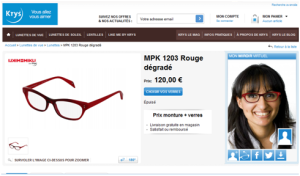 The best known of the augmented reality applications is virtual fitting. This feature allows your visitors to try on your products directly from their computer or smartphone.
This tool can be used in many sectors such as fashion (clothing, jewelry, hats, etc.), beauty (lipstick, mascara, eye shadows, etc.) or even online opticians.
Thanks to augmented reality, it is also possible to simulate a decoration or interior design directly from your sofa.
You can now allow your customers or prospects to visualize your products in 3D and in real time in their home or garden.
Companies are starting to take over this rapidly developing market, such as the French startup Emersya, CMS Shopify or the giant Google, which has already started several collaborations with the Avametric company.
Conclusion
We have just seen the techniques and tools to enable you to intelligently design and optimize your product pages.
Above and beyond all that we have mentioned, also focus on the implementation of a storytelling strategy to highlight the story of your brand to your prospects and customers.
This latter allows you to create a feeling of attachment to your brand and so helps you to build customer loyalty and win over your prospects.
It's up to you!
Subscribe to the Shopimind newsletter
Yes, I would like to receive this newsletter! I understand that I can easily unsubscribe at any time.
5 april 2021 Marion Drapala
Reading time approx. 7 min
5 april 2021 Marion Drapala
Reading time approx. 7 min
5 april 2021 Marion DRAPALA
Reading time approx. 6 min
# Multi-channel Marketing
# Automation